This is a quick tutorial on how to integrate MailChimp's API version 3 with easyClickmate and easyClickGuard.
The first thing you need to do is to get your MailChimp API key and the "list_id" for your list. Each list that you create in MailChimp has a "unique identifier" called the 'list_id' which is diferent from the 'list_name'.
In Your MailChimp Account
MailChimp List ID
Click on the "Lists" tab in your MailChimp account. For example, in my account, I have a list called "customers", and you may have a similar list called "customers" too. But both our lists (although have the same name) will have different/unique "list_id".
On the far right, there's a 'Stats' button, click on that and select "Settings"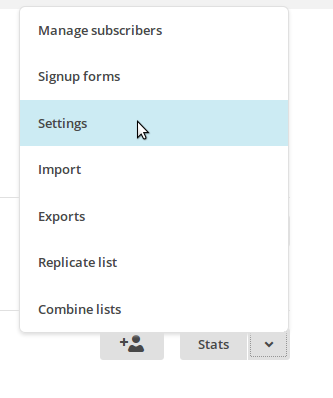 You'll find the list ID at the bottom of the page, for example:

In the EasyClickGuard Control Panel
Once you've the MailChimp API key and the list_id, insert them in the easyclickguard's dashboard, for example:

Inserting the "List ID" in EasyClickGuard:
Click on the individual product that you want to configure in easyClickGuard. Then, insert the 'list_id' in the product pages, in the 'Autoresponder' field, as shown in the example screenshot below:


In the EasyClickMate Control Panel

Insert "5" (for MailChimp) in the Autoresponder Type field.

Then, insert the list_id is on the main dashboard page for each of the product that you want to integrate with MailChimp.

NOTE:
Aweber: Integration is via the Email Parser, which unfortunately is not very reliable since many emails are caught in spam-filters, both at Aweber's servers as well as your own host. Many of these servers uses the various RBL databases which blacklists IP addresses.
GetResponse: Integration is via the older API version 1.x.
Update the code for Aweber and Getresponse is not possible at this moment as I no longer have access to these accounts.