ClickBank has added more features to its recurring billing program:
* You can now offer a trial period which was not available initially.
* You can now set a lower initial price – perfect if you are offering a trial period.
* Additional re-billing frequency options – bi-weekly, monthly, quarterly and annually.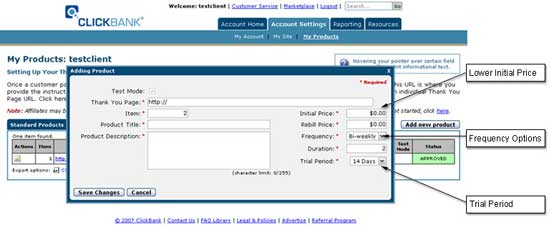 Initial Price
The retail price a customer pays for the initial purchase of a recurring billing product. The minimum initial price is $4.95.
Rebill Price
The retail price a customer pays for each subsequent payment for the duration of a rebill product. The minimum rebill is $7.95.
Frequency
The timeframe for which rebilling will occur, i.e. bi-weekly, monthly, quarterly, and annually.
Duration
The total number of times a customer is billed, including the initial payment and all rebills (ex. 2-99).
Trial Period
The number of days before the second bill will occur. If a trial period is selected, the initial payment period equals the number of days selected as the trial period.
The frequency selected will apply to the rest of the subscription. For example, a subscription offering a two week trial period with a duration of 60 will have one two week trial period and 59 rebills.
*The trial period timeframe cannot exceed 31 days.