In the next few days, ClickBank will be doing live tests with their new order form.
Take a look below at the screen-shot.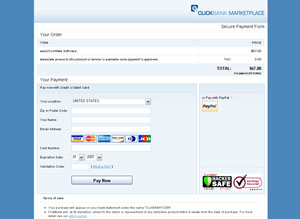 One notable change is the 'hacker-safe' logo in the lower right corner.
That has been proven to increase sales, so it's really good news for all
ClickBank vendors (publishers)
During the test-period, the order form will be split-tested between the
current and new version. Traffic will be split evenly, and results are
monitored in real-time to ensure the highest conversions.
I can't reveal much more for now as this enhancement/test is limited
to a small group of ClickBank vendors.
Once the tests are completed, and ClickBank has gathered sufficient
data, the changes (if any) will be rolled out to all ClickBank vendors/publishers.
Cheers,