For those using EasyClickGuard with Paypal, here's how to setup the Paypal PDT (Payment Data Transfer) Auth/Identity Token.
1. Log in to your PayPal account.
2. Click the Profile subtab.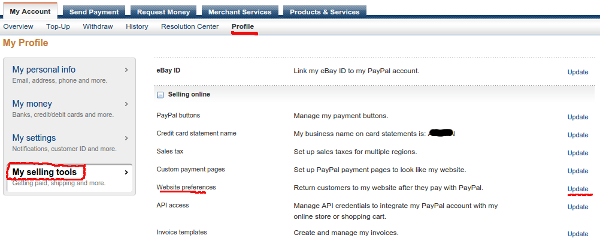 3. Click on the "My selling tools". On the right panel, you will see "Website Preferences"  Payment Preferences in the Seller Preferences.
4. Click on the "Update" – see the screenshot above.
5. You will then see the  "Website Payment Preferences" page. Check (enable) the "Auto Return" radio button.

6. For the Return URL, enter the URL on your site that will receive the transaction ID posted by PayPal after a customer payment, OR, you can also specify the return URL when you create the payment button/code.
7. Scroll down to the Payment Data Transfer section of the page to view your PDT identity token.

Reference: https://developer.paypal.com/webapps/developer/docs/classic/paypal-payments-standard/integration-guide/paymentdatatransfer/
Note:  There is a sample paypal buynow code in the zip file for easyclickguard.  You can use that as a template to create your own buy now button.