Contrary to popular belief, the Internet Marketing Niche is actually a rather small niche.
And extremely competitive too! Many of the IM folks "battle-hardened" – and highly skeptical when they read your sales copy.
That's the main reason why many smart marketers prefer to go after the non-IM niches.
* Less competition
* Less skepticism
Some folks called it "going after the low hanging fruits".
I had the chance to grab a copy of Private Label Package on "Potty Training".
Excellent stuff. I know because our 2nd daughter just turned 2 this year!

*** Did you know that at any one time, about 6 million
American kids are going through potty training? ***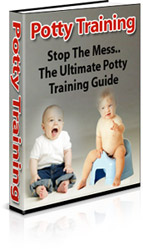 The author has definitely done extensive research on this topic, and I might add, probably have gone through the experience (Potty Training) as well.
Btw, did you know that the "Mother and Baby" is a mega huge niche. Of course you do!
A quick search on Google and Wordtracker reveals:
– Potty Training (1.35 million pages)
– Lots of related profitable keywords, e.g. toilet inserts, potty seats, etc.
Here are tips on how you can profit from this package:
1. Upload it "as is", and start selling them for an immediate profit … (although I don't recommend it)
2. Change it in any way that you like… (create a new/derivative product, create special report to use in your lead capture page, put them on CD-Rom and print them out for kick-butt physical products, etc!)
3. Take the existing content and create hundreds of articles…
4. Take the existing content and post to your Blogs (blogger or wordpress) for adsense income.
5. You can also sell the Master Private Label Rights to these products hundreds of dollars (or any price you want!)…
Essentially, the sky (or rather, your imagination) is the limit.
Here's a killer tip:
Approach those in the "Mother and Baby" niche and offer it as a free bonus to their existing customers. (remember, Potty Training is just one of the sub-niches in the "Mother and Baby" niche)
You will add value to their offerings, and in return, you get
* lots of free exposure and
* indirectly, "endorsement" from the authority in that niche.
* AND, you are also building your list at the same time.
Sounds good?
Wait, it gets even better. You can get your own copy of this excellent package for only $29.97.
That's less than a dollar a day.


[This package comes ready to go
sales letter and thank-you page as well]
If you need more ideas, just post your comments below :-)
Best wishes,
Adrian