In a nutshell …
* Unlimited, Free Life-Time Upgrades
* 90 days Comprehensive Technical Support.
* 100% Satisfaction Guarantee.
Unlimited Free Life-Time Upgrades
Since April 2002, we have decided to adopt the now famous:
FREE Life-Time Upgrades Policy for ALL our software products.
Yes, that's right, all our customers have been enjoying our free lifetime product
upgrade policy. No hidden charges, no jumping through the hoops to get the
latest product updates or upgrades.
While other companies charge you for each product upgrade, we give it to you
for free – a small way of showing our appreciation to you.
When you purchase software from us, you can be assured that your investment
will never become obsolete.
Our best selling Software – EasyClickMate has been updated numerous times,
usually one major upgrade per year to keep up with the changes. Here's what
one of our satisfied customer from 2002 said about us: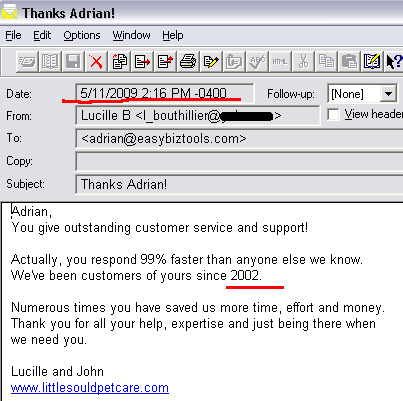 For a list of all our software products, please click here

Product Support
All our software products come with an extensive 90 days technical support.
If you have any questions about the software – e.g. how to use, customize, install, troubleshooting, etc – we're just a support ticket away.
If you need us to install it for you – just open a ticket requesting a professional
install and we'll take care of it at no cost. It's our way to show our appreciation to you.
All support tickets are answered within 24-48 hrs excluding weekends.
After the 90 day period we will STILL answer all your questions though in the rare
case that you require us to access your system (eg. to troubleshoot, upgrade,
re-install) – there is a nominal charge.
Click Here for Support Desk
100% Satisfaction Guarantee.
All our products carries a No-Nonsense 100% Satisfaction Guarantee. Give it a fair trial
for 60 days and if you don't like it for whatever reasons, you will receive a courteous
refund within 1 business day.
No jumping through hoops or waiting for days for a response!