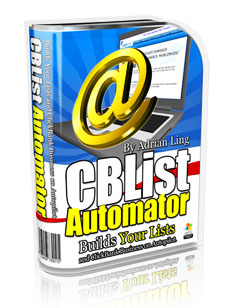 Surefire method to boost your affiliate income:
Step #1: Offer a valuable bonus to differentiate yourself from the other affiliates. More often than not, your bonus will be the determining factor whether a customer buys through your link or another affiliate's.
Step #2: Automate the process of bonus delivery – otherwise, you'd be stuck at your desk answering bonus queries – 24×7!
Step #3: Build your own list of responsive buyers and subscribers. This is key as it enables you to follow-up with them later with other related products or services.
CBListAutomator is a powerful software that fully automates the bonus delivery for you. Set it up once, and you no longer have to answer bonus queries.
Your customers can collect their bonuses themselves on your site at their leisure.
They visit the "collect bonus" page, enter their name, email and receipt num# and the software does the rest – i.e. sends them the bonus or auto-subscribe them to your list
This enables you to build a responsive list of buyers and subscribers on autopilot when the customers come to collect their bonuses.
And much more …. click on the link below to view.
Changelog
Version 2.0 (12th October 2010)
Direct Integration with Autoresponders – Aweber (Mail Parser), Getresponse (API) and Mailchimp (API)
New Email Triggers: When a buyer refunds or cancels recurring billing. This feature allows you to follow-up with a buyer who has refunded to ask for feedback, and perhaps even offer an alternative product (side-sell)
3rd Party Script integration – you can configure CBListAutomator to pass the IPN data to your own custom script for further processing if need be.
18th Oct 2010: ClickBank removed all customer data (name and email) from the Affiliate Stats and also in the IPN data in order to be PCI compliant.
Features in Version 3.0 (2nd November 2010)
Fully customizable "Collect Bonus" Page to match your site.
Revamped User Interface (more intuitive)
Updated documentation
Notifies via email you when you made an affiliate sale
100% compliant with the latest ClickBank IPN data and Privacy Policy changes.
Feel free to give your ideas/feedback for the next version of below: