Overview / Main Features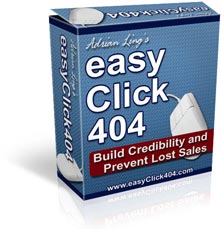 The easyClick404 script is probably the most un-glamorous script – no fancy web-interface, no flashy design or graphics – in fact, you won't even know it's there … until a visitor encounters a 404 Page Not Found Errors on your site. That's when the script really shines and comes through for you.
Your site don't have 404 Errors? Why not ask your webmaster to check the webserver logs – you might be surprised at the number of 404 Errors reported every month!
For example:
Let's say you paid $300 for an ad in a top-notch ezine with over 50,000 targeted subscribers. But unfortunately, there was a typo in the URL – or perhaps the editor made a mistake when he inserts your ad.

Would you know that your visitors are seeing the 404 page if no one tells you?

Now imagine, what if instead of a $300 ezine ad, you paid $10,000 for a half page ad in a glossy magazine – and the editor made a typo in your URL!
EasyClick404 will SAVE you money! Click on the link below for full details.
Changelog
Current Version: 1.0
Next Version: No plans yet.
Feel free to give your ideas/feedback for the next version below: