Gmail (google mail) is a wonderful tool – excellent spam filtering, lots of space, and you can also send mail as "someone else".
Let's say you have just setup a new niche website but you don't want the hassle of managing another email account at 'mynewshinywebsite.com'.
So, the solution is to setup an email forwarder (e.g. admin@mynewshinywebsite.com ) to forward all emails to your personal email account.
However, when you reply to someone who has sent you an email at admin@mynewshinywebsite.com, you want the email to appear to come from "admin@mynewshinywebsite.co" (and not from your personal Gmail account).
In other words, you want the "Reply to" email header to say:
Adrian Ling
You can easily do this with Gmail. Below are the step-by-step tutorial with screenshots:
Step 1
Click on the "gear" icon (upper right corner) and select "Mail Settings".






Then, click on the "Accounts and Import" and click on the "Send mail from another address" as shown below: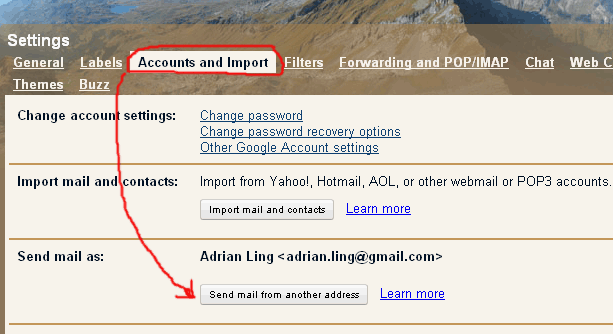 Step 2
A pop-up window will appear – insert the email that you want to send email as. See the image below: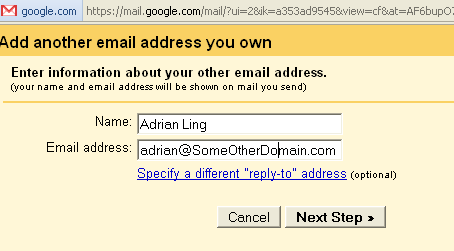 Step 3
Choose "send through Gmail" (this is the default) and it's also easier.






Step 4
Next, you need to click on the "Send Verification" button. Gmail will then send you the verification code to the email that you have specified in Step 2 – this is to ensure that you actually do own that email address. So, if you have set the forwarder to forward to your gmail account, then the verification code will appear in your personal Gmail account.







Step 5
Copy and paste the verification code that you have received in Step 4 above.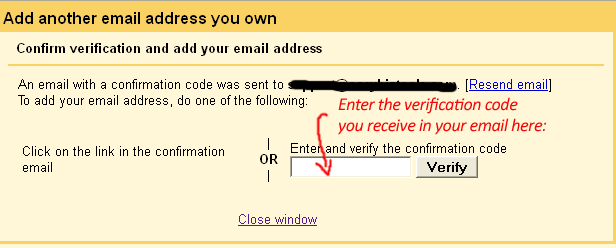 Step 6 – Final Step
Select this option.






That's it. Pretty simple huh?
Now, then next time you compose an email in Gmail – you have the option (from the drop-down list/box) to send email as:
– your personal Gmail account OR
– admin@mynewshinywebsite.com <-- that you have just setup. Have fun! Cheers,