Getting free (organic) traffic – lots of it, and getting it fast is the ultimate dream of all online marketers. Problem is, big brother Google is ever ready to slap any site – even the big ones such as buzzle.com (at one time, it was Google's favorite web2.0 site), eZineArticles, business.com, etc. Get the full scoop on Google Farmer Update here
Google has no qualms about sending any site or page to bottom of the SEO pile if it thinks the site is trying to game the SERP results.
So, how do you rank well (on the first or 2nd page on Google) and get boatloads of organic traffic for free?
Simple – make friends with Google. Show RELEVANT, QUALITY results to the searchers
In other words, your blog should have quality content that your mom would be proud of :-)
Ok – I hear you saying "I've heard it a million times before … what I'd really like to know is …"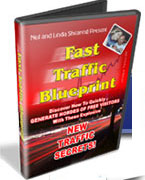 "HOW do I actually do all that? Is there a step-by-step 'blue-print' that shows me exactly what to do and how to do it?"
Glad you ask – a long time friend and straight talking Brit – Neil Shearing has just released his "Fast Traffic Blueprint".
Take a look at the impressive stats:
400 – 800 visits per day from a simple wordpress that has less only 97 posts in the whole of 2010.


This fast traffic blueprint is actually a real live case study of how Neil started a blog on the highly competitive 3D TV niche last year.
If you search for "3D TV reviews" (without quotes) – you'll see there are over 43 million pages! That's how competitive this niche is!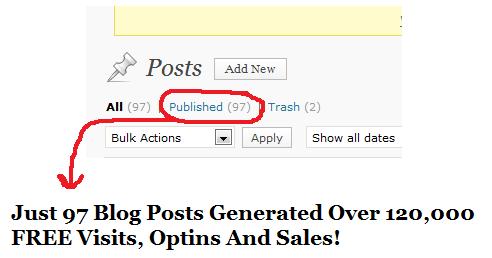 How did Neil do it?
Get the scoop in his Fast Traffic Blueprint here
Neil goes into great detail on how to setup your blog, what plugins to use, how to create content (the lazy way), how to explode one piece of content across the Internet in different formats (Hint: plugins that will convert your blog text into PDF as well as audio/"podcasts"), and much more.
You will also discover these 2 methods which I find very powerful:
How to use the "Promotion Cascade" method for instant links, BUZZ and traffic.(page 45)
How to use the "Content Cascade" method for long-term links and traffic. (page 53)
Yes, Neil will reveal the actual website (blog) so that you can see it for yourself. This is not just theory, but the real stuff.
And you'll be amazed to know that Neil's site has many do-follow links linking to external sites. I know, this is against what many "seo gurus" teach, but hey, the proof is in the pudding you know.
If you want to triple your traffic, I highly recommend that you grab a copy here



Fast Traffic Blue Print Bonus
Any shortcomings? Well, not really. Neil's blueprint is all about getting tons of free organic traffic. He assumes you already know all about Keyword research, so that part isn't covered. So, I've gone ahead a wrote a short report titled "Keyword Research Done Right"
As you might have already guessed, if you choose the wrong keyword – your site will never reach page #1 in google in a million years OR if it is on page #1, it may never make a single cent.
Proper Keyword research is essential in if you want to rank #1 in Google and make money.
In this short bonus report, I'll show you the "Whys" and "Hows" of proper keyword research.
You don't need to buy any keyword tool – everything is available in the free Google Keyword Tool.
I will show you real examples of sites that are ranking well in the highly competitive "Dating Niche" – why they are ranking well, and how you can out-rank them if you wish :-)
This particular dating niche/keyword has between 1,900 global searches (phrase match) and an average cost-per-click of over $3.20.
Total number of pages as reported by Google when you search for this "______ dating" keyword are:
3.2 million pages (if you search without quotes)
126,000 pages (if you search with quotes).
I'll show you how a site that has only 33 backlinks managed to get the top 10 (1st page) in Google for this keyword term.
I'll also show you a personal blog/site of mine which I registered on March 1st, 2011 for a product specific niche.
It's an empty wordpress blog with the default "Hello world" post, but it is currently ranked at page #8 in google for that particular keyword term which I target.
I plan to sell this special "Keyword Research Done Right Report" later once I get the sales copy up – but it's yours free if you purchase Neil's Faster Traffic Blueprint via my affiliate link below:
Get your Fast Traffic Blueprint here
Once you've purchased it, please open a ticket with your purchase receipt here to:
Claim your bonus
Best wishes,


PS: Neil does have one upsell but it's for the videos showing how he built his site. You can just purchase the blueprint first, and get the videos later (the link to the videos is in the blueprint as well).
PPS: No, Neil's site was not affected by the latest Google Farmer Update … he's one of the good guys :-)